Balanced flowmeter
---
ZWZDH is a high-tech enterprise specializing in R&D, design, manufacturing, marketing of flow meters and industrial automation instruments as well as system engineering integrated services.
I. Overview
ZWRY-LG series balanced flowmeter produced by our company adopts the most advanced symmetrical multi- orifices structure design in the world, is one of the most advanced differential pressure flowmeters at present.
Balanced flowmeter is an instrument for flow measurement based on differential pressure principle. The structure of flow sensor is a reasonable combination of orifice plate and rectifier, that is, opening several orifices on a board according to certain calculation and function relationship, and measuring flow rate based on the differential pressure on both sides of the board. The multi- orifices balanced throttling device can be used with differential pressure transmitter, display instrument (or computer) to measure, display and accumulate the flow.
II. Structure and Principle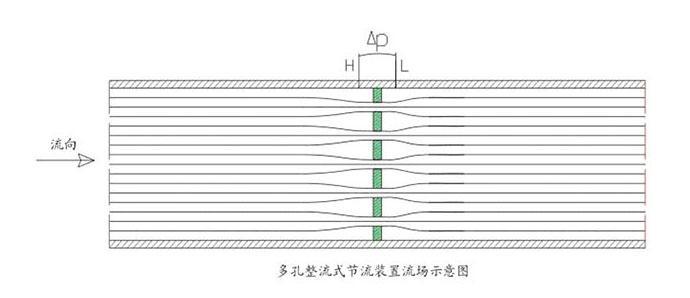 ZWRY-LG series balanced flowmeter follows the law of fluid mechanics and Bernoulli equation. The flowmeter outflow coefficient, the design of sizes, positions and shapes of the sensor's orifices, and the number of orifices are calculated through unique research and optimized for various working conditions, thus to make the measurement accuracy, repeatability, range ratio, permanent pressure loss and other comprehensive indicators to achieve the best, and make it to be the most advanced differential pressure flowmeter at present.

ZWRY-LG series balanced flowmeter combines the measuring principles of porous rectifier and standard orifice plate, that is, based on a circular hole in the center of the throttle plate, some circular orifices of uncertain number are symmetrically distributed. When the medium flows through a circular hole, the fluid is balanced and adjusted, and the eddy current is minimized to form an approximate ideal fluid, then, through the pressure taking device and transmitter, a stable differential pressure signal can be obtained, and the flow rate of the fluid can be calculated according to Bernoulli equation.
III. Measurement Medium
Liquids: hot water, cold water, light oil (diesel oil, kerosene), chemical liquids (methanol, ethanol, toluene, liquid ammonia) and other liquids.
Gases: air, oxygen, carbon dioxide, nitrogen, chlorine, natural gas, hydrogen sulfide, acetylene and other gases.
Steams: saturated steam, superheated steam.
The flow meters manufactured by our company are widely used in many fields such as metallurgy, chemical, thermoelectric, textile, pharmacy, petroleum, natural gas, paper making, tobacco, food processing, thermodynamics, etc., can be directly connected to DCS systems, suitable for various industrial sites, and can be used as a long-term flow monitoring device. Our first-class product quality and exquisite technical services obtained unanimous praise from the customers.
The company adheres to the business philosophy of "Integrity is the first user", and takes "transforming the most sophisticated measurement technology into the most easy-to-understand and easy-to-operate products" as its responsibility, striving to help customers to provide the best solutions, reduce resource waste, and enhance the effective utilization of resources through accurate measurement. The company pursues the enterprise spirit of "Integrity-based Users first", constantly develops and innovates. It takes technology as the core, regards quality as life, and takes users as God. It strives to create more excellent engineering design, and provides customers with products with higher cost performance ratio and meticulous after-sales service.