Elbow flowmeter
---
ZWZDH is a high-tech enterprise specializing in R&D, design, manufacturing, marketing of flow meters and industrial automation instruments as well as system engineering integrated services.
I. Overview
As a new measuring product which has a long history, elbow flowmeter has been recognized by the metrology field. It has been widely used in many industries, such as thermoelectricity, thermodynamics, metallurgy, petrochemical industry, food and public utilities. Its application and development prospects are very broad. The main advantages of elbow flowmeter are reliable principle, simple structure, energy saving, less maintenance, etc. The primary sensor of elbow flowmeter, i.e. the elbow sensor, has good applicability for all kinds of harsh situation such as high temperature, high pressure, humidity, dust, vibration. It can accurately measure the flow rate of pipes with a diameter of φ10-p3,000mm or even larger.
II. Working Principle
When the fluid flows through the elbow, due to the restriction of the wall of the elbow, the velocity of the fluid will gradually increase on the inward side and decrease on the outward side when it flows into the elbow, thus forming the approximate trapezoidal velocity distribution of each cross section (as shown in the right figure). According to the three laws of mass conservation, energy conservation and momentum conservation, the energy conservation of the original flow particles at the same cross section should be achieved when the fluid flows in the pipeline. However, due to the different flow velocities of the original particles, the pressure difference between the inward side and the outward side of the elbow is formed. There is a certain functional relationship between pressure difference and fluid velocity have.
III. Measurement Medium
Liquids: hot water, cold water, light oil (diesel oil, kerosene), chemical liquids (methanol, ethanol, toluene, liquid ammonia) and other liquids.
Gases: air, oxygen, carbon dioxide, blast furnace gas, coke oven gas, mixed gas, nitrogen, chlorine, natural gas, hydrogen sulfide, acetylene and other gases.
Steams: superheated steam, saturated steam.
IV. Product Composition
The basic composition of elbow flowmeter includes not only elbow sensor and flow totalizer, but also differential pressure transmitter (which must be equipped), pressure transmitter and temperature transmitter (which can be selected according to the requirements of the measured object), as well as three-valve manifold, disc condenser and other accessories. (refer to the attached figures)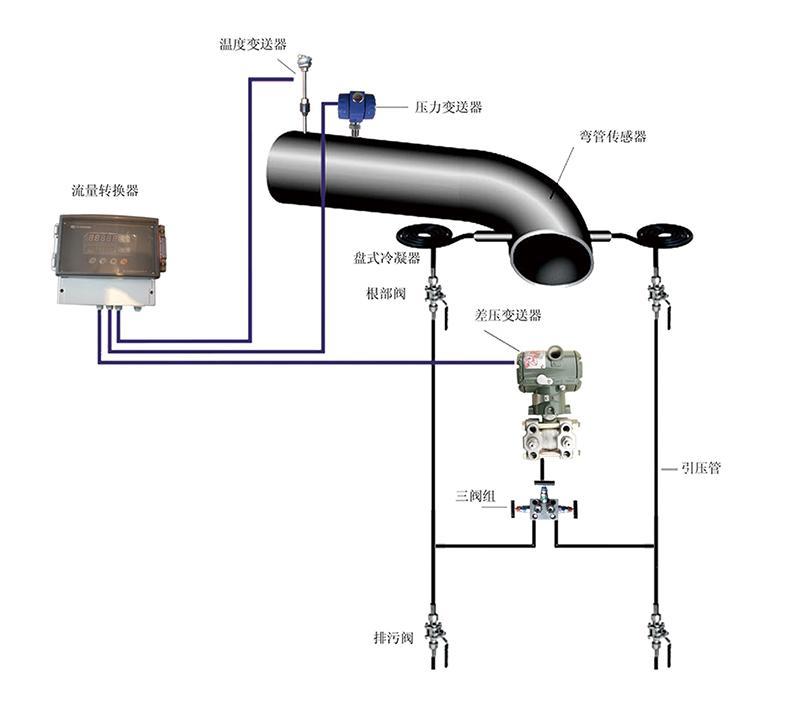 Other Accessories
1. Flow Totalizer: By receiving the signals from differential pressure transmitter, temperature transmitter and pressure transmitter, it calculates and displays the flow, temperature, pressure, heat and other parameters.
2. Differential pressure transmitter: it is used to detect the differential pressure produced by elbow sensor, so it is an indispensable part of elbow flowmeter measurement system.
3. Whether the system needs to be equipped with pressure and temperature transmitters depends on the specific measurement object. For the system for measuring steam or other gas medium, when measuring differential pressure of elbow sensor, the temperature and pressure of medium must be measured simultaneously, so that the necessary real-time temperature and pressure density compensation for steam or gas can be made to ensure the measurement accuracy of the system. Therefore, temperature and pressure transmitters must be equipped in principle. When measuring liquid medium, as long as the temperature and pressure of medium are not too high or too low, the fluctuation range is not large, and the density of liquid does not change a lot, the system is not necessary to be configured with temperature transmitter and pressure transmitter as well as other corresponding devices.
4. Three-valve manifold to be matched for differential pressure transmitter (optional);
5. Disc condenser to be added when measuring steam or other high temperature condensable gases.
6. Three-way plug valve (for liquid and gas media), needle valve (for steam) or ball valve (for liquid and gas media) matched on elbow sensor.
7. The globe valve of the pressure tap and the sewage valve of the differential pressure transmitter.
8. Other installation materials: pressure guide pipe (φ14×2 seamless steel pipe) and signal line (about 0.5 double core shielding line), etc. (provided by user).
The flow meters manufactured by our company are widely used in many fields such as metallurgy, chemical, thermoelectric, textile, pharmacy, petroleum, natural gas, paper making, tobacco, food processing, thermodynamics, etc., can be directly connected to DCS systems, suitable for various industrial sites, and can be used as a long-term flow monitoring device. Our first-class product quality and exquisite technical services obtained unanimous praise from the customers.
The company adheres to the business philosophy of "Integrity is the first user", and takes "transforming the most sophisticated measurement technology into the most easy-to-understand and easy-to-operate products" as its responsibility, striving to help customers to provide the best solutions, reduce resource waste, and enhance the effective utilization of resources through accurate measurement. The company pursues the enterprise spirit of "Integrity-based Users first", constantly develops and innovates. It takes technology as the core, regards quality as life, and takes users as God. It strives to create more excellent engineering design, and provides customers with products with higher cost performance ratio and meticulous after-sales service.